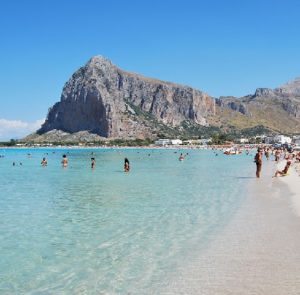 Le case di Palma offers comfortable houses where to spend your holidays in the bright San Vito Lo Capo.
New and cosy houses in great locations. Some of them are very near to the centre and the promenade but still not far from the gorgeous beach, while some others are just a step away from the sea. All the houses are within small apartment complexes with communal areas.
Especially we have two houses in 140bis, G. Armondi Street, nearby the city centre. They are the units Enea and Anchise, located respectively on the ground floor and on the first floor of a new building. They have from 6 to 7 beds. They are in a small building complex 600 meters away from the beach and just 250 meters from the city centre where there are several bars. Moreover there are parking space and 2 bikes included for each house.
We have then Villa Mari, an entire apartment complex recently refurbished and located in 55 Del Secco Street. It consists of 4 units: Viola, Lappanu, Sirrania and Cicireddu; it is provided with private access to the beach which is 140 meters away. The city centre is very near too, 300 meters away. There are from 3 to 5 beds for each units. Every house has its own veranda. Furthermore guests can enjoy the wide space, which the 4 units have in common, where children can play safely and adults can enjoy the exclusive solarium with a perfect view over the sea typical of San Vito and the comfortable relax area immersed in the green garden also with view over the sea.
Eventually we have another house in 56, Senia Street, located in a small apartment complex too, very near to the centre and the beach, 400 and 500 meters away respectively. We are talking of the unit Glicine. It Is situated at the first floor of a new building. The house has from 6 to 7 beds and it is provided with parking space and two bicycles.